Asset Recovery a Key Strategy in Graft Fight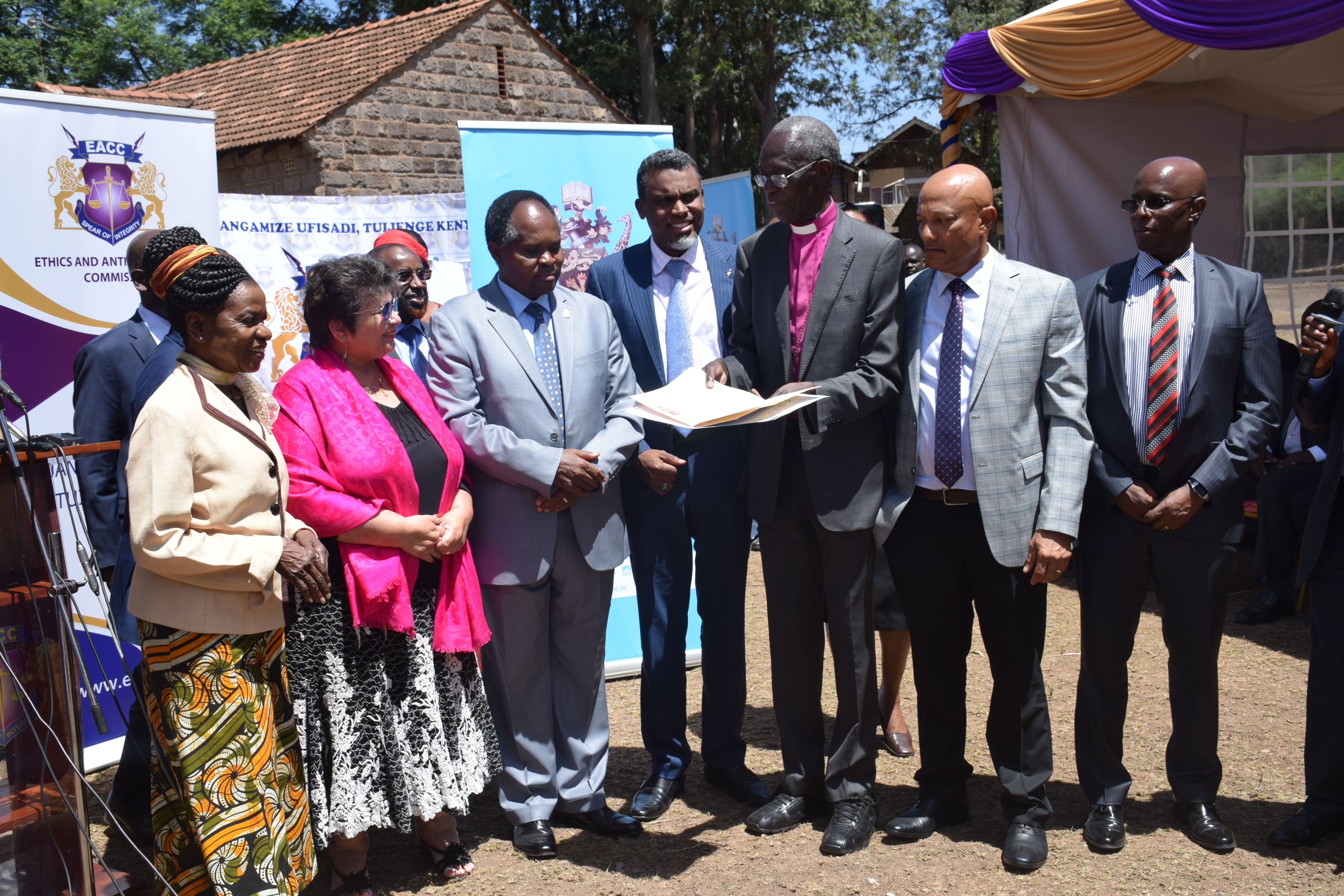 The Ethics and Anti-Corruption Commission has successfully recovered a five-acre plot valued at KES 2 Billion belonging to the University of Nairobi. The land which had been grabbed by a private developer was handed over to the University by the Ethics and Anti-Corruption Commission on 29th January, 2019. The handover ceremony was graced by the University executive management led by the Chair of the University Council Prof. Julia Ojiambo, the University Chancellor Dr. Vijoo Rattansi, the Vice Chancellor Prof. Peter Mbithi, University Council members, Deans, and members of staff. The Director of Public Prosecution, Mr. Noordin Haji, was also present together with the EACC Chairperson and the Commission management.
In 2015, the Ethics and Anti-Corruption Commission received a complaint from the University that a parcel of land L. R. No. 1/514 situated along Galana Road had been grabbed and allocated to a private company. Investigations conducted by the Commission's sleuths revealed that the property was illegally or fraudulently allocated and a title issued to Aberdares Engineering Contractors Limited.
During the pendency of the suits, the Defendant, Aberdares Engineering Contractors Limited expressed interest to resolve the matter through the ADR mechanism. The Commission took into account the fact that cases in courts tend to drag for an inordinate long period and being cognizant of the spirit of the Constitution encouraging ADR, agreed to the request.
Speaking during the handover ceremony, EACC Secretary and Chief Executive Officer, Mr. Twalib Mbarak said that the since 2004, the EACC has recovered assets worth over Kshs. 12.78 Billion (Kshs. 12,783,657,385.55) and has handed over, amongst others, the following assets to various Government Institutions;
Uhuru Gardens in Mombasa
The Mayor's House located in Lavington, Nairobi
The Ukunda Airstrip land in Kwale
Parcels of land hived off from the Ngong Road Forest
Several houses within the Woodley/ Joseph Kang'ethe Estate
Karatina Police Station land
Laikipia Dispensary and nursery school land
 The Commission's Secretary further said that there were many cases pending in court for recovery of public assets worth approximately 12 Billion shillings, which when successfully completed, would be handed over as provided by the Law.
The Commission's Chairman, Archbishop (Rtd.) Eliud Wabukala, said that as a countermeasure, recovery of corruptly acquired assets and returning them to their rightful owners is one of the most effective means of combating corruption. Accordingly, the Commission is committed to expending more efforts and resources in the area of Asset Recovery.  He acknowledged the Office of the Director of Public Prosecutions and the University of Nairobi for their positive collaboration and support without which the Commission efforts could have been frustrated.