EACC Hosts KEPSA For A Courtesy Call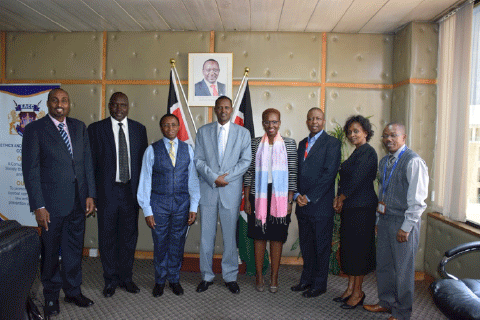 EACC Secretary / CEO Mr. Halakhe D. Waqo (fourth from left), KEPSA Deputy CEO, Ms. Rachel Muthoga (fourth from right) and officials from EACC and CIPE during the courtesy call
The Ethics and Anti-Corruption Commission on 18th April 2018 hosted the Kenya Private Sector Alliance (KEPSA) who paid a courtesy call on the Commission's Management.
KEPSA Deputy CEO, Ms. Rachel Muthoga was accompanied by the Centre for International Private Enterprises (CIPE) Country Representative for Kenya Mr. Ben Kiragu. CIPE is currently partnering with KEPSA on anti-corruption initiatives.
They were hosted by the EACC Secretary / CEO, Mr. Halakhe D. Waqo, the Deputy CEO Mr. Michael K. Mubea and other members of Management.
During the courtesy call, both EACC and KEPSA reiterated the need for closer and stronger collaboration in the fight against corruption, specifically in the Private Sector. It was acknowledged that the Commission's fight against corruption, both in enforcement and prevention measures, has mainly targeted the Public Sector.
It was also noted that corruption affects the bottom line in business by making it more expensive in the long run. With the finalization and implementation of the Procedures and Guidelines currently being developed for the Bribery Act of 2016, it is envisaged that the Private Sector will be more engaged in the war against graft.
The two agencies discussed various areas of possible collaboration during the meeting and agreed on strengthening their partnership so that they can together fight corruption and promote ethical values in the Private Sector.