EACC, ODPP And Judiciary Hold A Joint Workshop Under The Multi-agency Taskforce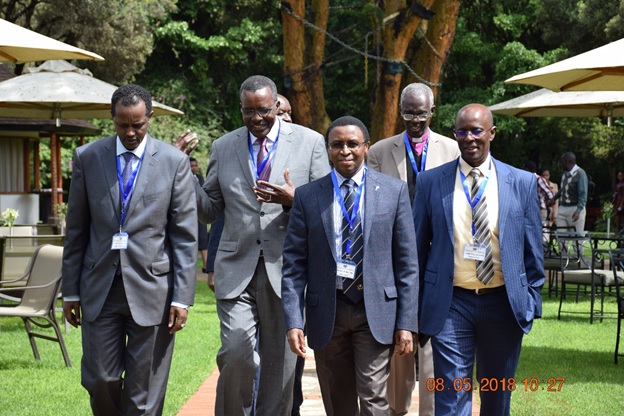 Part of EACC Executive Management with His Lordship The Chief Justice, Hon. David K. Maraga during the Stakeholders workshop on fortifying a collaborative approach in the fight against corruption at Mt. Kenya Safari
His Lordship the Chief Justice Hon. David K. Maraga addressing the participants during the workshop
The Commission through the Department of Evidence Analysis conducted a workshop on Fortifying a Collaborative Approach in the Fight Against Corruption: An Experience Sharing in Investigations, Prosecutions and Adjudication. Key stakeholders in the criminal justice system from ODPP, Judiciary and EACC deliberated on the gains made and the challenges faced in the fight against corruption. The stakeholders further committed to working together to enhance investigations, prosecutions and adjudications of corruption and unethical conduct.
The Chief Justice Hon. David K. Maraga, who was the chief guest, in his speech stated that an effective fight against corruption requires collaboration of all stakeholders in the justice sector. He also said that institutional collaboration is not a voluntary or merely a desired way of working, but a constitutional principle of governance that is a requirement under the Constitution, and thus no institution can work in isolation. He further urged the institutions to interact and learn from one another about the individual and collective/institutional effort that can be made to remedy our country from the cancer of corruption.
The EACC Chairman, Archbishop (Rtd) Eliud Wabukala in his speech stated that corruption is one of the biggest threats to the countrys efforts to realize its development blueprint and as main actors in the fight against corruption the institutions are expected to be more resolute in the execution of their respective mandates of investigation, prosecution and adjudication of corruption cases. In so doing, public resources will be safeguarded from selfish motives and utilized to uplift the lives of Kenyans as a whole.
The Director of Public Prosecutions Mr. Noordin Haji addressing the participants during the Stakeholders Workshop
The Director of Public Prosecutions Mr. Noordin Haji spoke on the importance of coordinating and cooperating more since corruption is becoming more complex and there is need to look into the laws to ensure that there is capability to deal with the ever evolving practices of corruption.
The EACC Secretary/CEO, Mr. Halakhe Waqo implored the participants to remember that the combined power of a group of people when they are working together is greater than the total power achieved by each working separately and that team work at its best results in a synergy that can be very productive.
Group Photo of all the participants from EACC, ODPP and Judiciary during the workshop on fortifying a collaborative approach in the fight against corruption at Mt. Kenya Safari Club