EACC Presents On National Values And The Family During The Family Conference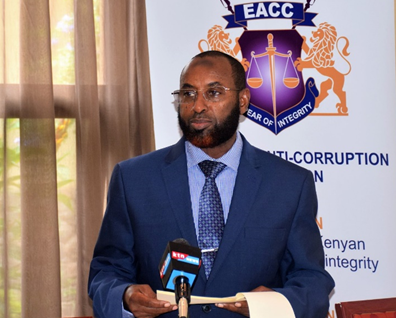 EACC Commissioner Paul Mwaniki Gachoka making a presentation on national values and family during the Family Conference organized by Ministry of Labour and Social Protection at KICC, Nairobi
The Commission participated in the Family Conference organized by the Ministry of Labour and Social Protection to mark the United Nation International Day of the family. The Commission was ably represented by Commissioner Paul Mwaniki Gachoka who presented on the national values and the family.
In his presentation, the Commissioner spelled out the importance of upholding personal values. Commissioner Gachoka said values are non-negotiable convictions that provide internal reference for what is good, desirable and constructive. He alluded to the fact that upholding values at a family level builds the foundation, structure and boundaries in which to function and thrive. Commissioner Gachoka attributed the decay in our societal values to corrupt practices and unethical conduct in our society.
Commissioner Gachoka told participants that Article 10 of the Constitution outlines our National Values. He said these values define our identity, who we are, what we believe in, what we stand for and direct the society towards common good. He further reiterated that the Commission is pleased to partner with key stakeholders in promotion of integrity among learners. He said the Commission, together with the Kenya Institute of Curriculum Development (KICD) have developed content for institutions of learning that will go a long way in ensuring matters ethics, integrity and good governance will be mainstreamed into the new curriculum. In addition, he informed participants that the Commission has and continues to establish and operationalise integrity Clubs in every institution of learning in the Country. He said that Integrity Clubs main objective is to nurture appropriate values and positive attributes among the youth and promote right attitudes and values that influence ethical behaviour and good character among youth.
He called on every one to uphold values and lead by example. This he said, the youth will have right role models to emulate.
Participants listening to a presentation by EACC Commissioner Mwaniki Gachoka during the Family Conference at KICC, Nairobi